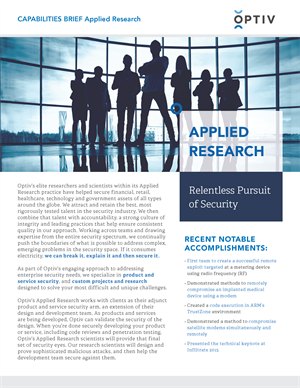 Applied Research
December 14, 2016
When you're done securely developing your product or service, including code reviews and penetration testing, Optiv's Applied Research scientists will provide that final set of security eyes. Our research scientists will design and prove sophisticated malicious attacks, and then help the development team secure against them.
Download
Stay in the Know
For all the latest cyber security and Optiv news, subscribe to our blog and connect with us on Social.
Subscribe
Join our Email List
We take your privacy seriously and promise never to share your email with anyone.
Privacy Policy