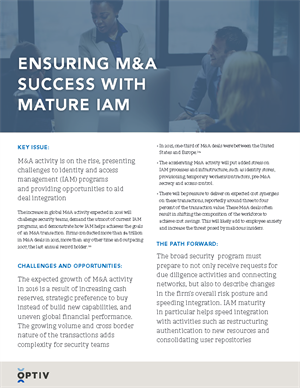 Ensuring M&A Success with Mature IAM
May 23, 2016
M&A activity is on the rise, presenting challenges to identity and access management (IAM) programs, but also providing opportunities to aid deal integration. The increase in global activity will challenge security teams, demand the utmost of current IAM programs, and demonstrate how IAM helps achieves business strategy.
Download
Stay in the Know
For all the latest cyber security and Optiv news, subscribe to our blog and connect with us on Social.
Subscribe
Join our Email List
We take your privacy seriously and promise never to share your email with anyone.
Privacy Policy