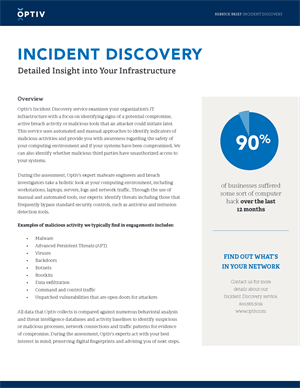 Incident Discovery
June 13, 2017
Optiv's incident discovery service examines your organization's IT infrastructure with a focus on identifying signs of a potential compromise, active breach activity or malicious tools that an attacker could initiate later. This service uses automated and manual approaches to identify indicators of malicious activities and provide you with awareness regarding the safety of your computing environment and if your systems have been compromised. We can also identify whether malicious third parties have unauthorized access to your systems.
Download
Stay in the Know
For all the latest cyber security and Optiv news, subscribe to our blog and connect with us on Social.
Subscribe
Join our Email List
We take your privacy seriously and promise never to share your email with anyone.
Privacy Policy