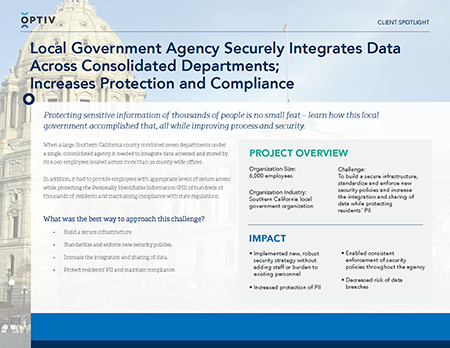 Local Government Agency Securely Integrates Data Across Consolidated Departments; Increases Protection and Compliance
February 22, 2016
When a large county combined seven departments under a single, consolidated agency, it needed to integrate the data created, stored and accessed by its 6,000 employees located across more than 30 county-wide offices. The county's objectives were to eliminate redundancies, reduce overhead and facilitate cooperation between departments. Read about how Optiv helped the agency provide employees with appropriate levels of secure access while protecting the PII of hundreds of thousands of residents and maintaining compliance with state regulation.
Download
Stay in the Know
For all the latest cyber security and Optiv news, subscribe to our blog and connect with us on Social.
Subscribe
Join our Email List
We take your privacy seriously and promise never to share your email with anyone.
Privacy Policy