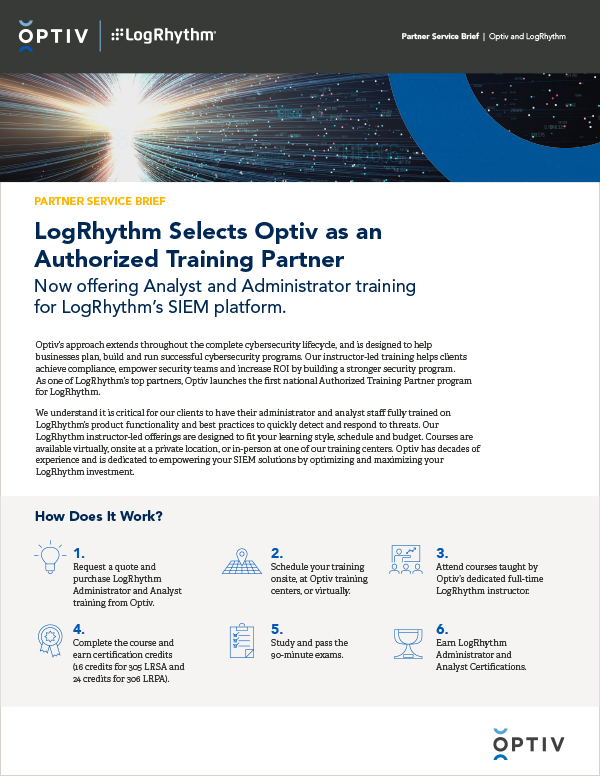 LogRhythm Selects Optiv as an Authorized Training Partner
May 01, 2020
We're launching the first national Authorized Training Partner program for LogRhythm. Our instructor-led offerings are designed to fit your learning style, schedule and budget. Courses are available virtually, onsite at a private location, or in-person at one of our training centers. Optiv has decades of experience and is dedicated to empowering your SIEM solutions by optimizing and maximizing your LogRhythm investment.
Download
RELATED INSIGHTS
April 13, 2020
Learn from dedicated Optiv instructors and an international network of over 2,500 trusted training partners.
See Details
March 17, 2020
Our I&I services integrate siloed security technologies and processes to help you maximize your existing investments.
See Details
March 16, 2020
Optiv delivers end-to-end solutions that help clients maximize and communicate the effectiveness of their cybersecurity programs.
See Details
Stay in the Know
For all the latest cyber security and Optiv news, subscribe to our blog and connect with us on Social.
Subscribe
Join our Email List
We take your privacy seriously and promise never to share your email with anyone.
Privacy Policy