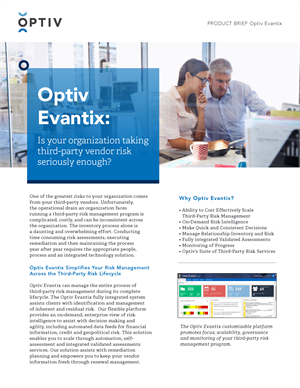 Optiv Evantix
November 29, 2016
Optiv's third-party managed service offering allows you to run your vendor risk management program effectively. Using the Optiv Evantix platform, in conjunction with our suite of services, we enable your organization to make quick, consistent decisions and manage the assessment lifecycle of your third-party relationships.
Download
Related Insights
April 09, 2018
Learn about recent changes in the cyber security landscape.
See Details
April 09, 2018
Learn about the the role and responsibilities of the data protection officer (DPO).
See Details
March 08, 2018
Learn how to manage the many forms of third-party risk.
See Details
Stay in the Know
For all the latest cyber security and Optiv news, subscribe to our blog and connect with us on Social.
Subscribe
Join our Email List
We take your privacy seriously and promise never to share your email with anyone.
Privacy Policy