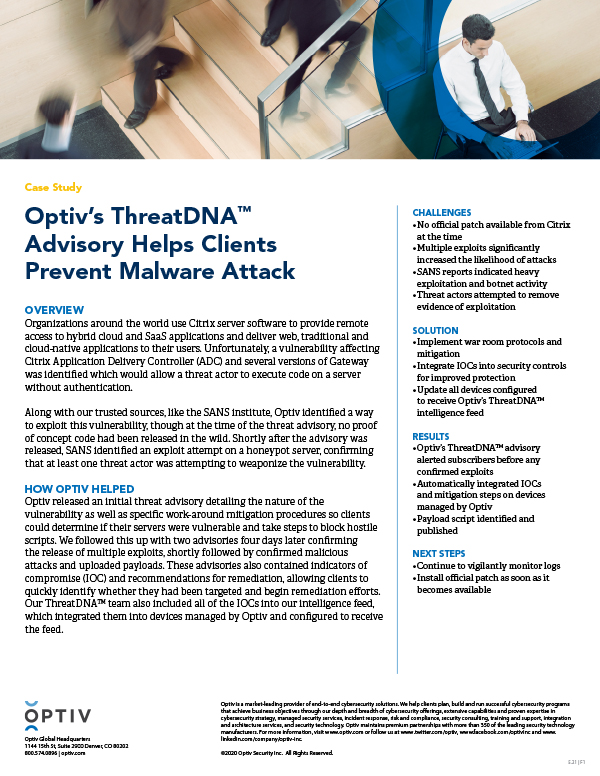 Optiv's ThreatDNA(TM) Advisory Helps Clients Prevent Malware Attack
May 28, 2020
A vulnerability affecting Citrix Application Delivery Controller (ADC) and several versions of Gateway was identified which would allow a threat actor to execute code on a server without authentication. This brief details Optiv's threat advisories and the steps taken to help our clients diagnose and remediate the threat.
Download
RELATED INSIGHTS
December 19, 2019
The need for intelligence-driven operations resulted in Optiv's Global Threat Intelligence Center (gTIC). In 2020, our intelligence operations will in...
See Details
November 05, 2019
In late August, a new ransomware strain, Nemty, was distributed in the wild. It, coupled with a multitude of other ransomware threats in 2019, demands...
See Details
January 24, 2019
Intelligence seems to be full of three-letter acronyms, including Indicators of Compromise (IoC) and Indicators of Attack (IoA). The difference betwee...
See Details
Stay in the Know
For all the latest cyber security and Optiv news, subscribe to our blog and connect with us on Social.
Subscribe
Join our Email List
We take your privacy seriously and promise never to share your email with anyone.
Privacy Policy