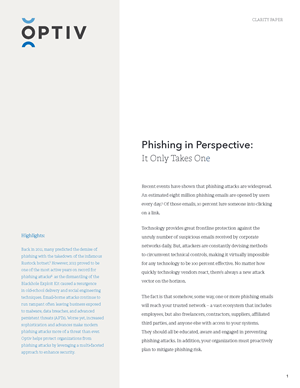 Phishing in Perspective: It Only Takes One
November 11, 2015
Preventing attacks and protecting data and information assets is a shared responsibility across your organization. Every member of your staff has a role to play in the larger security picture, from the security staff, to employees and executives. Read this paper to find out about organizations' obligation to limit exposure through the use of strong technical controls, innovative awareness programs, and a commitment to continuously evaluate and sharpen security efforts.
Download
Stay in the Know
For all the latest cyber security and Optiv news, subscribe to our blog and connect with us on Social.
Subscribe
Join our Email List
We take your privacy seriously and promise never to share your email with anyone.
Privacy Policy