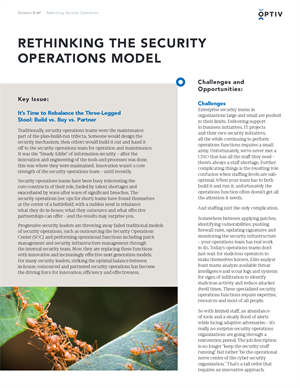 Rethinking the Security Operations Model
February 01, 2017
For many progressive security leaders, the evolving landscape of cyber security has been the catalyst for a fundamental shift towards innovation in security operations. Innovating in an area that has traditionally been thought of as overhead isn't easy- but with the best combination of building, buying and partnering for the right solution, security leaders are making innovation a reality.
Download
Stay in the Know
For all the latest cyber security and Optiv news, subscribe to our blog and connect with us on Social.
Subscribe
Join our Email List
We take your privacy seriously and promise never to share your email with anyone.
Privacy Policy