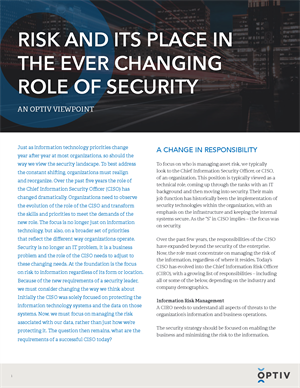 Risk and Its Place in the Ever Changing Role of Security
April 09, 2018
Just as information technology priorities change year after year at most organizations, so should the way we view the security landscape. To best address the constant shifting, organizations must realign and reorganize. Over the past five years the role of the Chief Information Security Officer (CISO) has changed dramatically. This paper explores the shift in security roles and responsibilities, and how to align risk with business needs.
Download
Stay in the Know
For all the latest cyber security and Optiv news, subscribe to our blog and connect with us on Social.
Subscribe
Join our Email List
We take your privacy seriously and promise never to share your email with anyone.
Privacy Policy