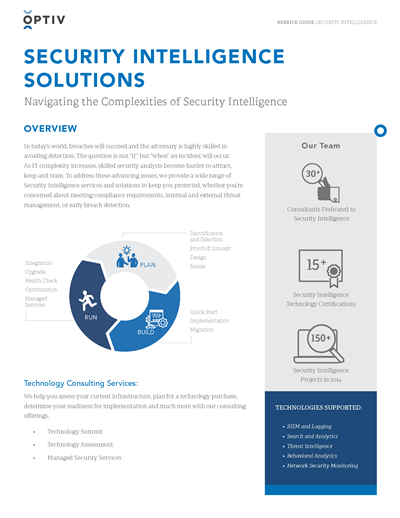 Security Intelligence Solutions
July 21, 2015
In today's world, breaches will succeed and the adversary is highly skilled in avoiding detection. The question is not "if," but "when" an incident will occur. As IT complexity increases, skilled security analysts become harder to attract, keep and train. To address these advancing issues, we provide a wide range of security intelligence services and solutions to keep you protected, whether you're concerned about meeting compliance requirements, internal and external threat management, or early breach detection.
Download
Stay in the Know
For all the latest cyber security and Optiv news, subscribe to our blog and connect with us on Social.
Subscribe
Join our Email List
We take your privacy seriously and promise never to share your email with anyone.
Privacy Policy