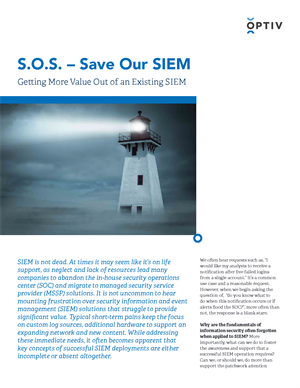 S.O.S - Save Our SIEM
July 14, 2016
SIEM is not dead. At times it may seem like it's on life support, as neglect and lack of resources lead many companies to abandon the in-house SOC and migrate to MSSP solutions. It is not uncommon to hear mounting frustration over SIEM solutions that struggle to provide significant value. While addressing immediate needs, it often becomes apparent that key concepts of successful SIEM deployments are either incomplete or absent altogether.
Download
Stay in the Know
For all the latest cyber security and Optiv news, subscribe to our blog and connect with us on Social.
Subscribe
Join our Email List
We take your privacy seriously and promise never to share your email with anyone.
Privacy Policy