The Optiv and BlackBerry Cylance partnership has stood at the top in both collaborations and in providing clients with the most mature and effective AI and Machine Learning Endpoint Security Protection solution.
Start with Optiv's complimentary Security Program Foundation Assessment or our joint Compromise Assessment to determine where Optiv and BlackBerry Cylance may be able to strengthen and optimize your endpoint security posture.
Together for Stronger Security
BlackBerry. Intelligent Security. Everywhere.
Enterprises today face an increasingly chaotic environment where cyberthreats are ever-more sophisticated and pervasive. At the same time, enterprise endpoints and the amount of data shared at the edge are growing exponentially. Together, cybersecurity threats and endpoint chaos are putting organizations at risk while cutting into employee productivity and increasing IT costs and complexity. For an enterprise, being able to understand and mitigate the risks has become more important than ever. This is why the BlackBerry Cyber Suites leverage true artificial intelligence, machine learning and automation to provide improved cyber threat prevention and remediation. Plus, its secure unified endpoint management solution helps you reduce costs and complexity with increased automation and enhanced user experience. Add to this Optiv's technical experts, actionable plans and ability to create a well-rounded security program, and you gain the tools and services needed to optimize your unified endpoint protection — and your organization's highest security posture overall.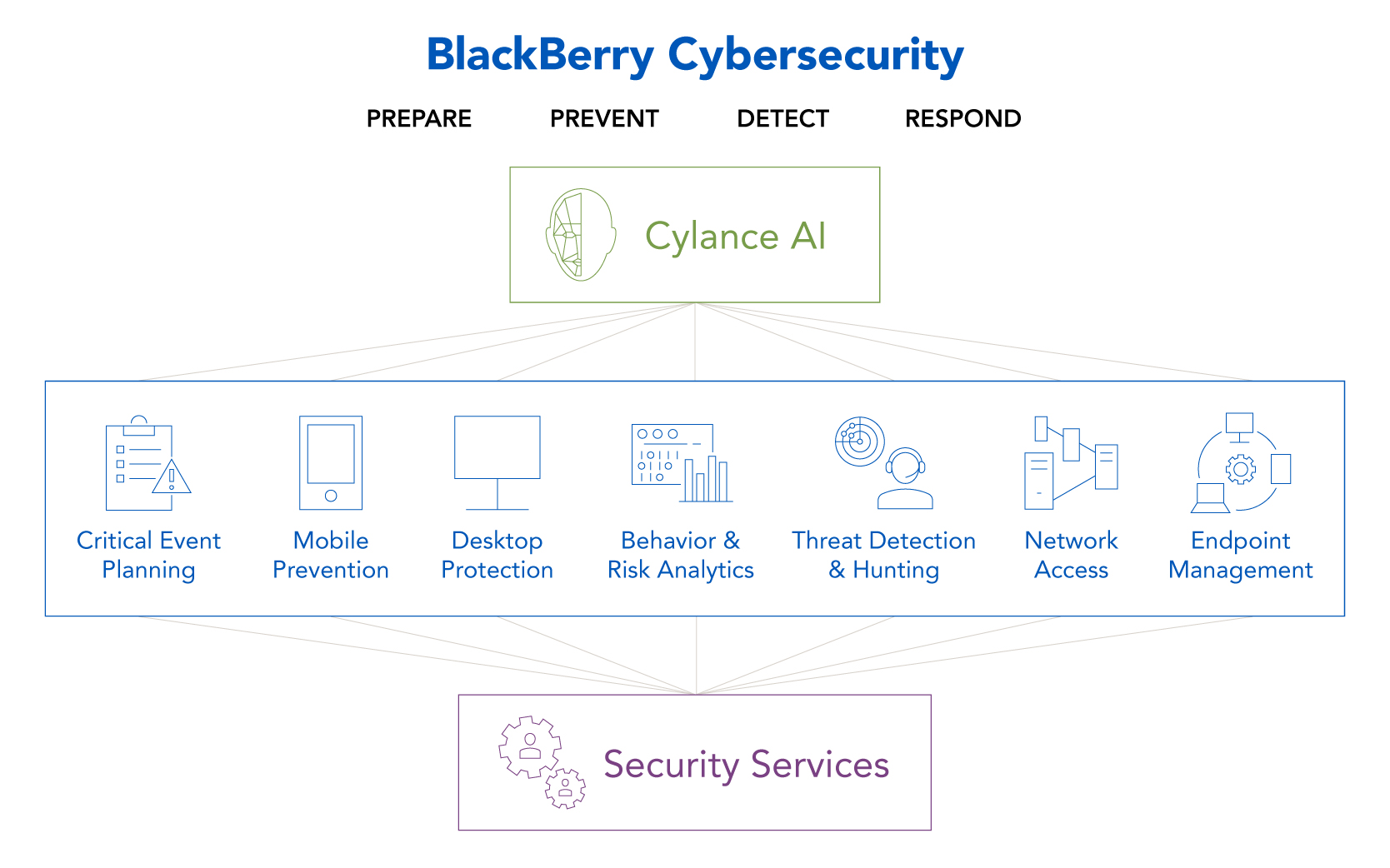 Why clients choose Optiv for BlackBerry Cylance:
150+ joint projects completed annually
95 BlackBerry Cylance Certified Professionals
140+ Endpoint Security Projects delivered annually
20+ Consultants dedicated to endpoint security
Optiv Services: Gain a predictive advantage over modern threats
Optiv offers a comprehensive portfolio of security operations services designed to help you connect, protect, and secure your environments with BlackBerry Cylance technology solutions. Our experienced security professionals enable your organization to quickly identify, analyze and respond to potential security threats utilizing BlackBerry Cylance AI-powered solutions. We can effectively monitor and manage your security environment and even serve as an extension of your team.
BlackBerry Cylance Solutions
Secure and protect your users and devices, even BYOD laptops and smartphones, with a solution that's focused on earning trust across any endpoint and continuously validating that trust at every event or transaction.
BlackBerry Unified Endpoint Security
Protect your organization with a modern Unified Endpoint Security (UES) solution. Our end-to-end approach to cybersecurity is deeply rooted in artificial intelligence (AI) and machine learning (ML), providing enhanced visibility and protection against current and future cyberthreats.
Unified Endpoint Management – UEM
Managing and Securing the Internet of Things. As new device types proliferate, the lines between them are blurring. How do you stay in control? A comprehensive Unified Endpoint Management Strategy can lay the foundation for secure devices.
What's Next?
To get started, ask your local Optiv representative about our complimentary Security Program Foundation Assessment to determine where Optiv and BlackBerry Cylance can help you strengthen and optimize your security program.
Amplify Your Cybersecurity Journey
Know where you are now, and what is next – with Optiv and our Partners.