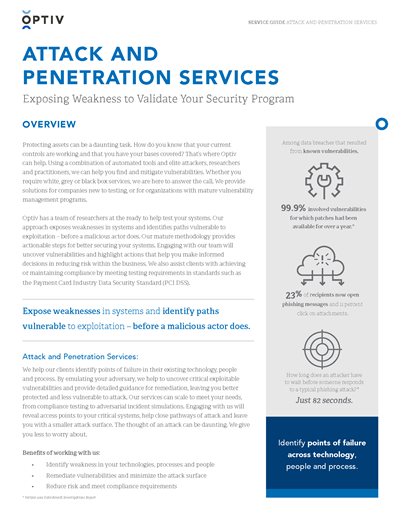 Attack and Penetration Services
March 29, 2017
Protecting assets can be a daunting task. How do you know that your current controls are working and that you have your bases covered? That's where Optiv can help. Using a combination of automated tools and elite attackers, researchers and practitioners, we can help you find and mitigate vulnerabilities. Whether you require white, grey or black box services, we are here to answer the call. We provide solutions for companies new to testing, or for organizations with mature vulnerability management programs.
Download
Stay in the Know
For all the latest cyber security and Optiv news, subscribe to our blog and connect with us on Social.
Subscribe
Join our Email List
We take your privacy seriously and promise never to share your email with anyone.
Privacy Policy