Need to Meet New CMMC Requirements? Our experts can help.
CMMC is a new way of doing business with the Federal Government. Optiv can help you meet CMMC conditions plus develop a fully integrated federal business strategy.
OptivCon. Timely cybersecurity topics. Experts weigh in.
Watch General Keith Alexander, USA (Ret.), and Optiv's VP, Strategy & Transformation, Justin Williams, discuss risk management planning, national security insights, and leadership in a cyber world.
Best Practices for Automated Vulnerability Remediation
Moving from legacy vulnerability management to automated remediation can save you time but how do you ensure a seamless transition? Our automated remediation field guide provides best practices across several use cases to help you avoid pitfalls.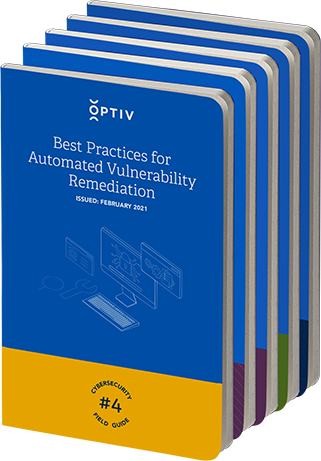 EDR and Blending in: How attackers avoid getting caught.
It's just one of the latest topics in our technical blog: Source Zero. When you're in the trenches, bookmark this page. Red team or blue team. No password required.
A Visual History of Cybersecurity
From Commodore 64 to COVID-19, from ARPANET to 2020 — the most unprecedented year most of us can remember — our Visual History of Cybersecurity ebook provides a compelling illustrated history of everything cybersecurity-related we've faced along the way.
Optiv Flash Panel: Software Supply Chain Compromise
Software supply chain compromise explained: What you need to know and lessons learned.
Join us for an important panel discussion featuring Optiv threat experts, who will uncover
what we know of the compromise and its implications for organizations.
World-Class Partners
We deliver multi-technology security solutions together with our 350+ partners. By teaming with the best cybersecurity technology companies in the industry we'll help you build a security plan roadmap that optimizes technologies and services based on your business goals.
Harris Named Black Employee Network Scholar
Lauren Harris – an incoming Princeton student studying biology and computer science – has been selected as the first winner of Optiv's Black Employee Network scholarship.
Guidance for SolarWinds/Orion Compromise
Optiv Client Success Stories
Let's look at real-life case studies to see exactly how we've helped organizations solve complicated cybersecurity issues. We've done it all and then some because cybersecurity is all we do.