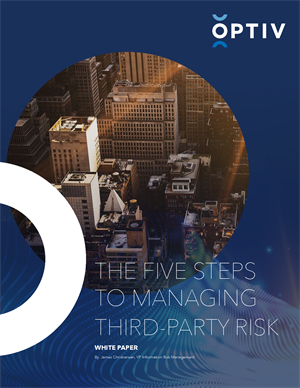 The Five Steps to Managing Third-Party Risk
March 08, 2018
Third parties now provide many of the strategic functions previously conducted inside the walls of organizations. Most companies have hundreds if not thousands of third-party suppliers and partners. Regardless of the type of third party—such as billing, records management, cloud storage or OEM—these relationships and the services they provide create some type of risk to the organization. Read about how these risks can affect you, and what to do about them.
Download
Stay in the Know
For all the latest cyber security and Optiv news, subscribe to our blog and connect with us on Social.
Subscribe
Join our Email List
We take your privacy seriously and promise never to share your email with anyone.
Privacy Policy