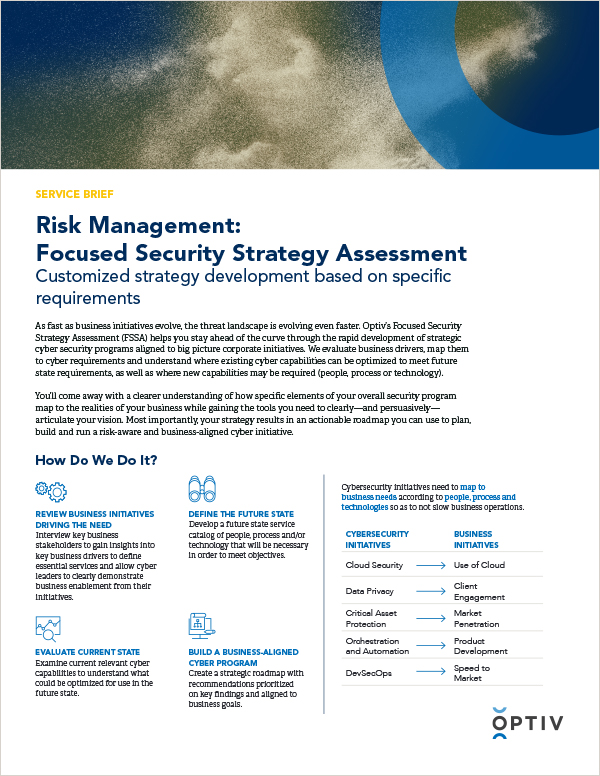 Focused Security Strategy Assessment
June 30, 2020
Our Focused Security Strategy Assessment (FSSA) evaluates business drivers, maps them to cyber requirements and identifies where existing capabilities can be optimized to meet future state requirements. You'll gain a clearer understanding of how your overall security program relates to business realities and acquire the tools needed to plan, build and run a risk-aware and business-aligned cyber initiative.
Download
RELATED INSIGHTS

DOWNLOAD
January 15, 2020
Our Security Strategy Assessment gauges your security program against big-picture corporate initiatives.
See Details

BLOG
May 28, 2020
Risk-Based Vulnerability Management reduces risk more efficiently and meaningfully than legacy vulnerability management programs.
See Details
DOWNLOAD
February 21, 2019
Learn about importance of balancing risk against opportunity at the C-level.
See Details
Stay in the Know
For all the latest cyber security and Optiv news, subscribe to our blog and connect with us on Social.
Subscribe
Join our Email List
We take your privacy seriously and promise never to share your email with anyone.
Privacy Policy