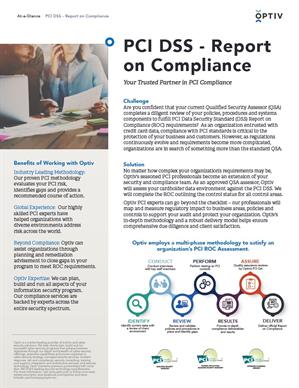 PCI DSS Self-Assessment Questionnaire Guidance and Attestation
July 07, 2017
Compliance is critical for organizations handling credit card data to protect their business and customers. Organizations attempting to self-attest to the Self-Assessment Questionnaire (SAQ) run the risk of incorrectly completing the questionnaire. Optiv can help in attesting to the SAQ by conducting a PCI assessment focusing on all pertinent areas of the SAQ and complete testing on each control. For organizations wishing to sign their own SAQ, Optiv can assist with strategic guidance for completion.
Download
Stay in the Know
For all the latest cyber security and Optiv news, subscribe to our blog and connect with us on Social.
Subscribe
Join our Email List
We take your privacy seriously and promise never to share your email with anyone.
Privacy Policy