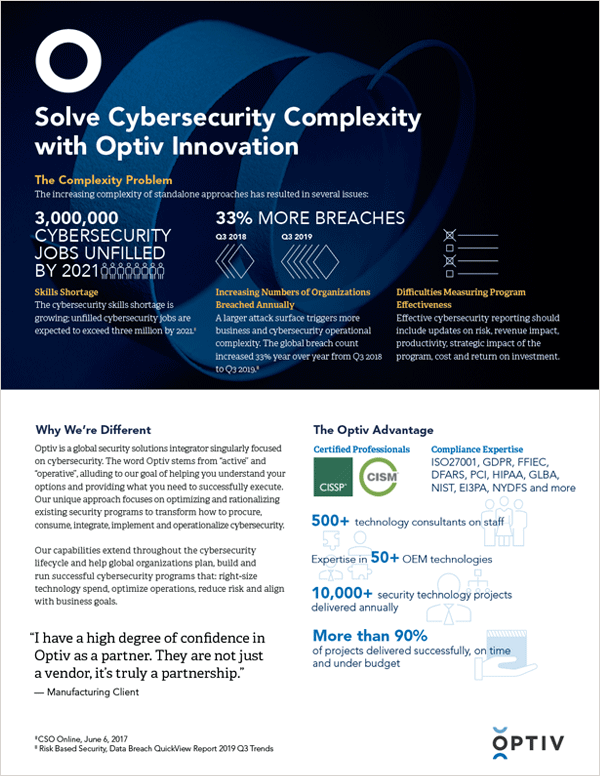 Optiv Services Overview
October 31, 2019
Our unique approach optimizes and rationalizes existing security programs to transform how you procure, consume, integrate, implement and operationalize cybersecurity. Our capabilities extend throughout the cybersecurity lifecycle and help you plan, build and run successful cybersecurity programs that: right-size technology spend, optimize operations, reduce risk and align with business goals.
Download
RELATED INSIGHTS

DOWNLOAD
March 16, 2020
Optiv delivers end-to-end solutions that help clients maximize and communicate the effectiveness of their cybersecurity programs.
See Details

BLOG
December 18, 2019
From Brand to eCommerce to mobile services and payments to salesforce enablement and remote work to BYOD to online banking and beyond, cybersecurity i...
See Details

DOWNLOAD
January 22, 2020
Our Security Program Foundation Assessment (SPFA) helps you holistically evaluate and focus your program.
See Details
Stay in the Know
For all the latest cyber security and Optiv news, subscribe to our blog and connect with us on Social.
Subscribe
Join our Email List
We take your privacy seriously and promise never to share your email with anyone.
Privacy Policy