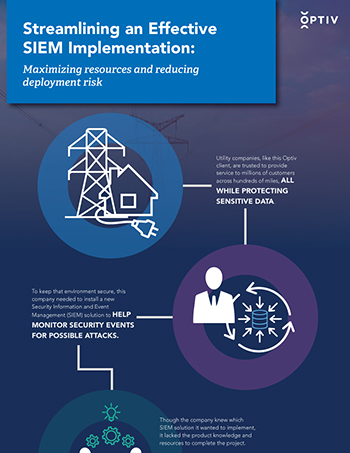 Streamlining an Effective SIEM Implementation
February 22, 2016
While addressing ways to further secure their environment and protect sensitive customer information, a large utility company saw a need to install a new Security Information and Event Management (SIEM) solution to help monitor security events for possible attacks. Because this was a large investment, the company needed a trusted partner like Optiv, which has extensive SIEM experience, to effectively complete the implementation. Learn how they completed a successful SIEM implementation with Optiv. Follow their steps in this infographic.
Download
Stay in the Know
For all the latest cyber security and Optiv news, subscribe to our blog and connect with us on Social.
Subscribe
Join our Email List
We take your privacy seriously and promise never to share your email with anyone.
Privacy Policy