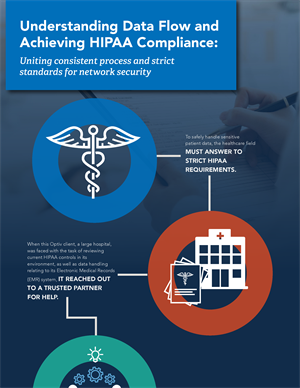 Understanding Data Flow and Achieving HIPAA Compliance
February 22, 2016
When a large hospital was faced with the task of reviewing current HIPAA controls in its environment, they turned to Optiv as a trusted, strategic partner. Optiv helped this client better understand how information moves in and out of their Electronic Medical Records (EMR) system by creating a network flow diagram. This hospital worked with Optiv to successfully secure its sensitive patient data and reputation. Learn more about their journey in this infographic.
Download
Stay in the Know
For all the latest cyber security and Optiv news, subscribe to our blog and connect with us on Social.
Subscribe
Join our Email List
We take your privacy seriously and promise never to share your email with anyone.
Privacy Policy