It's Time Now for Tonight's Top 10 List: Cybersecurity Acronyms!
It's Time Now for Tonight's Top 10 List: Cybersecurity Acronyms!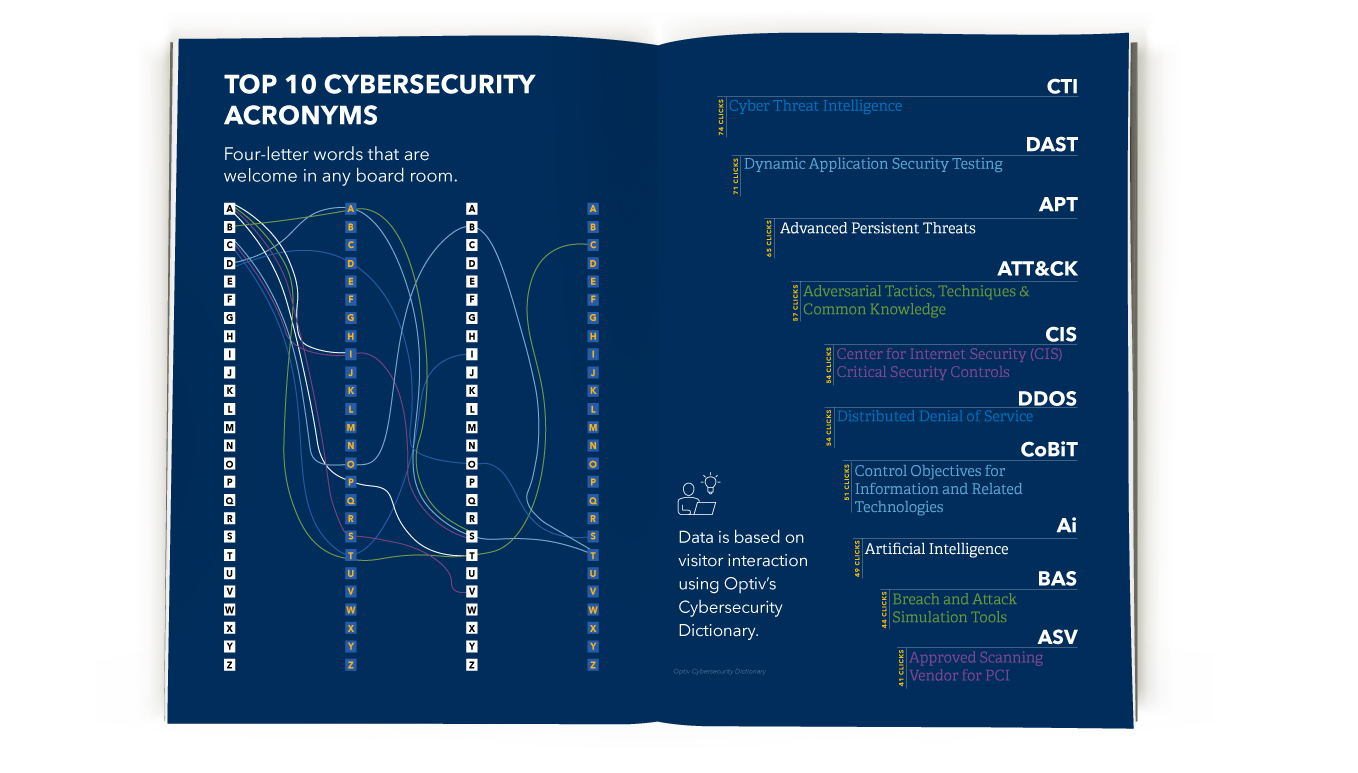 Okay, Top 10 Cybersecurity Acronyms would never have made it on "Letterman," even on the slowest Tuesday night of the year. These acronyms – which seem to number in the millions – are about convenience, not entertainment. "Continuous Adaptive Risk and Trust Assessment" is a bit of a mouthful, and "CARTA" communicates the same thing in 11 fewer syllables. In an industry that seems to shift and evolve every 15 minutes, faster is definitely better.
The concepts they denote are critically important to the security of trillions of dollars of economic value. So love 'em or hate 'em, acronyms are a reality – and a practical one – for anyone in cybersecurity.
In our new infographic book, A Visual Guide to Cybersecurity, we devote some space to key industry shorthand, and here are the big ones:
CTI - Cyber Threat Intelligence
DAST - Dynamic Application Security Testing
APT - Advanced Persistent Threats
ATT&CK - Adversarial Tactics, Techniques and Common Knowledge
CIS - Center for Internet Security
DDoS - Distributed Denial of Service Attack
CoBiT - Control Objectives for Information and Related Technologies
AI - Artificial Intelligence
BAS - Breach and Attack Simulation Tools
ASV - Approved Scanning Vendor for PCI
Even better, our website is home to a thorough cybersecurity dictionary explaining dozens of important terms and concepts. We work with our Solutions and Technical teams to update this glossary quarterly so a quick, up-to-date overview and links to related terms are always at hand.
We encourage you to bookmark our dictionary and refer back anytime you hear a new term or string of letters (or need to explain a concept to a client, colleague, friend or your parents).
A Visual Landscape of Cybersecurity is 100 pages of eye-opening stats and insights for CISOs to board members to SOC analysts and everyone else in the information security field. We'd love to send you a copy.