Optiv Security Named a Leader in Cybersecurity Consulting by ALM Intelligence 
Company Rated Best-in-Class Provider in External Market Insight and Operating System Capability Areas
Only Pure-Play Cybersecurity Firm Included on Listing
DENVER – November 8, 2017 - Optiv Security, a market-leading provider of end-to-end cybersecurity solutions, today announced ALM Intelligence has named it a leader in Cybersecurity Consulting. In the recently published report, ALM Vanguard Cybersecurity Consulting Providers, ALM states, "As the only pure-play cybersecurity firm in the Vanguard, Optiv has been able to create uniquely thorough advisory services, including developing a cybersecurity strategy and assessing/designing IT capabilities and needs that complement both the firm's depth on the topic and breadth of services."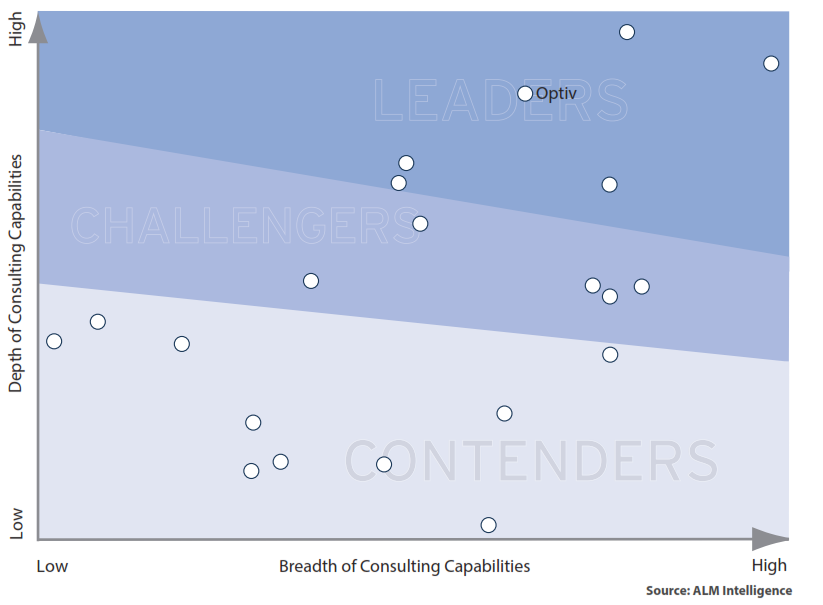 "By now most organizations understand the importance of having a solid cybersecurity strategy in place. Unfortunately, the constantly changing threat landscape makes it difficult for business, IT and security leaders to determine the best path forward," said Stuart Solomon, executive vice president of security solutions and operations for Optiv. "Companies need help navigating the complex cybersecurity environment, mapping out the right strategy that will meet their business objectives and understanding how to best leverage their security investments to maximize value. Optiv is proud to be recognized by ALM for having the right expertise and capabilities to help clients make clarity out of the security chaos."
In the report, ALM gave Optiv the highest-possible "best-in-class" rating in two of the nine featured capability areas. According to ALM, providers that receive a best-in-class rating "evidence deep capabilities in specific areas of cybersecurity consulting and stand out from their peers for their highly effective and often innovative consulting approaches and service delivery." ALM states the following about Optiv in the two areas where it rated "best-in-class:"
External market insight – "Optiv combines a broad array of cybersecurity specific assessments with its Information Security Program Dashboard, Threat Assessment and Profile, and deep knowledge of current threats, regulations and technologies to paint a complete picture of external factors, the risk posed to the client, and benchmarking."
Operating system – "Optiv excels at developing a holistic IT design for cybersecurity, including determining the client's readiness for implementation and technology selection and sourcing, and incorporating efficiency and optimization techniques."
Optiv also scored strong in the needs assessment, internal client insight, strategy, management system and client capability development categories.
The ALM Vanguard of Cybersecurity Consulting Providers report assesses 21 firms in terms of their relative ability to create impact for their clients. Firms identified as leaders in the cybersecurity consulting space are able to guide their clients from both a business and technology perspective. These providers start by aligning overall business objectives with the cybersecurity strategy and facilitate and educate the process from the board and C-suite down to the trenches. They are unique in their ability to independently execute end-to-end projects across the full spectrum of client contexts.
To view additional details on Optiv's inclusion in the 2017 ALM Vanguard: Cybersecurity Consulting Providers report, a complimentary copy is available for download from the Optiv website. 
About Optiv Security
Optiv helps clients plan, build and run successful cyber security programs that achieve business objectives through our depth and breadth of cyber security offerings, extensive capabilities and proven expertise in cyber security strategy, managed security services, incident response, risk and compliance, security consulting, training and support, integration and architecture services, and security technology. Optiv maintains premium partnerships with more than 350 of the leading security technology manufacturers. For more information, visit www.optiv.com.