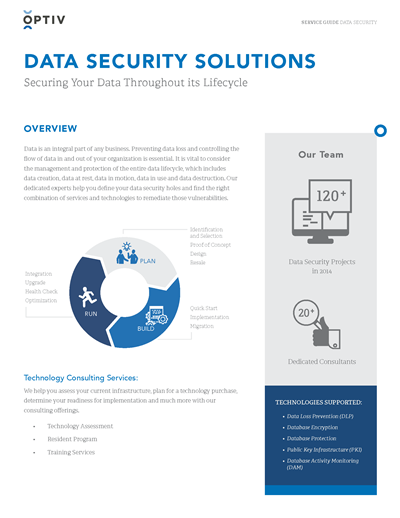 Data Security Solutions
July 21, 2015
Data is an integral part of any business. Preventing data loss and controlling the flow of data in and out of your organization is essential. It is vital to consider the management and protection of the entire data lifecycle, which includes data creation, data at rest, data in motion, data in use and data destruction. Our dedicated experts help you define your data security holes and find the right combination of services and technologies to remediate those vulnerabilities.
Download
Stay in the Know
For all the latest cyber security and Optiv news, subscribe to our blog and connect with us on Social.
Subscribe
Join our Email List
We take your privacy seriously and promise never to share your email with anyone.
Privacy Policy