The enemy perspective: What hackers see in your environment.
Reactive security doesn't work.
Security threats come from every direction – network connections, apps, web sites, social media, mobile, email and more. It's hard to detect and manage threats across this ever-changing environment. Adopting IoT, virtual environments and cloud applications may stretch a security program that isn't built to align with your business operations. Third-party open-source components add complexity and the distribution of IT responsibility complicates the task of tracking issues. You can't fix what you can't find, and hackers are getting better at hiding every day.
Just buying tools as a reaction to specific threats can make integration and remediation more difficult. This overall complexity doesn't help bridge security and IT operations, reduce risk, or communicate ROI to the board.
Conclusion: the speed of business and the complexity of your threat environment encourage reactive measures that increase complexity.
Reactive tactical and compliance-driven threat management approaches can reduce preparedness and leave dangerous gaps in your security posture.
Let's actually solve your Threat Management challenges
Your new technologies and policies must be integrated and strategic, not just deployed tactically (and perhaps even haphazardly). Compliance should be the result of the plan, not its entire purpose.
What if you could take the time to:

Evaluate security from the enemy's perspective to construct resilient, predictive outcomes to a comprehensive threat array.

Assess the effectiveness of implemented controls, while maintaining alignment to clearly define processes and frameworks.

Integrate security into daily IT operations and software development.

Build adversarial solutions to better understand the threat landscape allowing you to detect, react and respond in a more efficient manner.
If this makes sense, consider teaming with a seasoned partner on a genuinely strategic threat program that includes:
We've been here before. Have a look.
Overview:
A global, publicly-traded retail manufacturer that distributes and sells apparel both online and in a brick-and-mortar chain reviewed their past security assessments and found their security operations lacking. A cloud-first mentality and digital transformation focus meant effective security controls and risk management policies were critical. The existing security strategy was immature and complicated by excessive, noisy vendor relationships.
What we did:
We conducted a detailed assessment to understand the client's desired risk profile. A comprehensive executive briefing and deep-dive discovery helped us align solutions to their strategy and risk roadmap. Our team then developed a holistic managed security operations program mapped to 15 areas of operational risk improvement. Multiple operational gaps were addressed within a single initiative and single statement of work, to improve people, processes and technology.
The custom solution included:
Comprehensive security operations program
SIEM optimization and management
Tools upgrade and implementation
Proactive and reactive services
Vulnerability management program
Attack surface management and risk reduction
Incident management and forensics
Security awareness training
Annual assessments for continual improvement
Program management and executive service delivery
Results:
Improved 15 areas of operational risk
Consolidated multiple vendors
Realigned and uplifted staff
Transferred costs and risk to Optiv
Next steps:
Extend security operations into cloud, identity and data management functions
Leverage risk-based methodology across a portfolio of cybersecurity services
Provide strategic guidance and knowledge sharing to improve security
In short, we collaborated with the client to establish a strategic threat program that goes well beyond mere compliance.
Contact us and together we'll implement a program that lets you:
Build a strategic, proactive threat management platform identifies and fixes the root causes of your vulnerabilities. You'll no longer live in a reactive, compliance-first world. A focus on all the moving parts will improve your security posture and specifically address the requirements of your business and industry.
Adapt your threat management to your business and industry dynamics
Operate with a holistic, security-first mindset
Transcend the compliance check-box approach with customized methodologies that include program-level root cause analysis and remediation guidance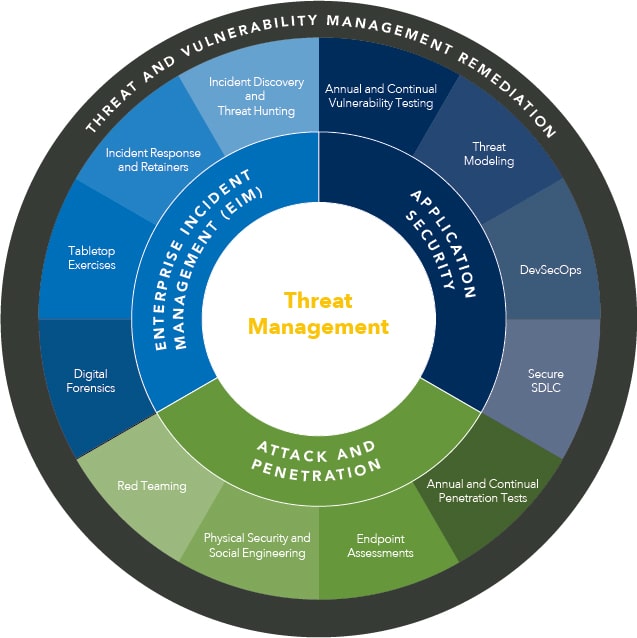 Together we'll ensure your business continuity in the event of a security breach, minimizing financial or reputational loss.
Find a Local Expert
We have resources close by who can help.
Our Threat Management solutions begin with your team's capabilities, working to understand strengths and gaps and positioning people to succeed. Cybersecurity effectiveness is measured and evaluated, and we help you communicate ROI to leadership in strategic business terms.
We're former CISOs, security technologies and operations experts leveraging a "been there, solved that" perspective you can trust.
Certified security solutions and third-party integration experts
Extensive backgrounds with hundreds of security technologies
PMP-and PRINCE2-certified project managers
CISSP, CISA, CISM, CIPM, CRISC, CCISO, CCSK, PCI-QSA, GIAC Certifications
"Thanks for making this a fun assessment even though we had to do it remote this year. Led to some unique challenges, but overall a great experience."
- Large Retail Firm, 2020