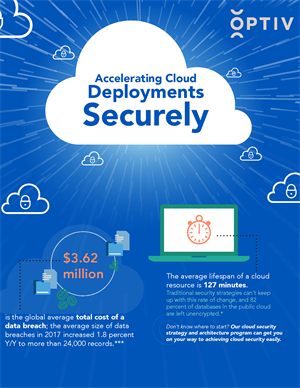 Accelerating Cloud Deployments Securely
September 20, 2017
There are many factors that come into play when deploying to the cloud. From hiring resources to providing security awareness training, the work can seem daunting. By working with Optiv, you'll have access to our team of experts to respond quickly to incidents and help build out your team, from incident response and cloud security architecture to identity. Learn how Optiv can enable cloud initiatives within your organization while helping to ensure the security of company assets.
Download
Stay in the Know
For all the latest cyber security and Optiv news, subscribe to our blog and connect with us on Social.
Subscribe
Join our Email List
We take your privacy seriously and promise never to share your email with anyone.
Privacy Policy