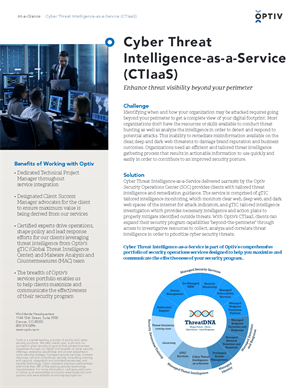 Cyber Threat Intelligence as-a-Service
April 19, 2018
Optiv's Cyber Threat Intelligence as-a-Service determines if you have been exploited on the clear, deep and dark web to provide proactive reporting, actionable analysis and detailed remediation guidance. We help you to gain a decision advantage by enhancing your visibility into externally validated threats which directly affect your organization, clients, brand, executives or physical location.
Download
Stay in the Know
For all the latest cyber security and Optiv news, subscribe to our blog and connect with us on Social.
Subscribe
Join our Email List
We take your privacy seriously and promise never to share your email with anyone.
Privacy Policy