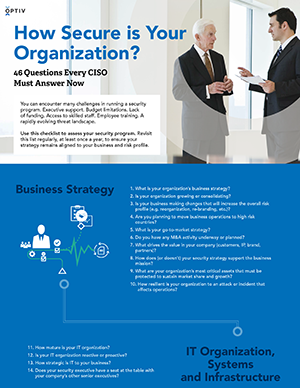 How Secure is Your Organization?
June 21, 2017
When it comes to security, a CISO's job is never done. Many factors go into a successful and secure organization. Use this infographic to assess your current security program and learn about 46 questions every CISO must answer now. Revisit this list regularly to answer questions on topics including business strategy, IT organization, systems and infrastructure, organizational culture, threats, regulations and global, social and political forces.
Download
Stay in the Know
For all the latest cyber security and Optiv news, subscribe to our blog and connect with us on Social.
Subscribe
Join our Email List
We take your privacy seriously and promise never to share your email with anyone.
Privacy Policy