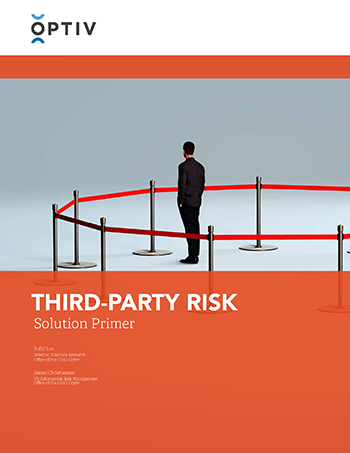 Third-Party Risk Solution Primer
January 13, 2016
As companies grow and become interdependent upon each other, the issue of third-party risk rises to the forefront in boardrooms across the globe. Whether the relationship is strategic and prominent, or operates in the background – the threats that each third party relationship poses to the enterprise is very real. Strategic outsourcing creates vast opportunities for efficiency and cost reduction while taking non-core functions of business and moving them to a third party. The unknown business risk taken on as a result of this type of relationship – whether it's a third-party market research firm, a credit card processor, or manufacturing partner – is a source of consternation for CISOs that must be managed more effectively.
Download
Stay in the Know
For all the latest cyber security and Optiv news, subscribe to our blog and connect with us on Social.
Subscribe
Join our Email List
We take your privacy seriously and promise never to share your email with anyone.
Privacy Policy