Working in the Trenches: How to Unlock Tomorrow for our Future Workforce
Working in the Trenches: How to Unlock Tomorrow for our Future Workforce
The shortage of talent in the cyber security industry is a growing concern among many industry leaders and the pain is specifically palpable within the area of talent acquisition. The challenge is real and many are concerned about finding ways to address it and most importantly provide solutions for it. The cyber security industry reached $75 billion in 2015 and is expected to reach $170 billion by 2020, according to Forbes. This rapid growth is without a doubt the contributing factor to the elevated need for top quality expert talent, ready to take on the fight against cyber crime.
But what solutions do we have in place to step up to this challenge? As both government and organizations are looking for new and innovative ways to solve this need and narrow the talent gap, turning to the very basics is key. In other words, building our future workforce from the ground up. It is only through partnership and collaboration between companies, schools and government at both the state and federal level, and working hand in hand that we will be successful in creating real and meaningful opportunities for our future workforce.  
At Optiv, we are working towards a comprehensive program that is aimed at introducing young students to the world of cyber security and offering training that will allow participants to get real hands-on experience and a taste of what it is like to fight cyber crime. 
Last week, we worked together with Denver Public Schools to sponsor a trip for a group of young high school students to attend the Rocky Mountain Collegiate Cyber Defense Competition. At the event, the students visited the different competition rooms, met and interacted with different competing teams and competition organizers. While the youngsters were exposed to some competitive fun, they also learned about cyber security careers and different educational pathways to get into the various career fields (from high school to advanced degree programs).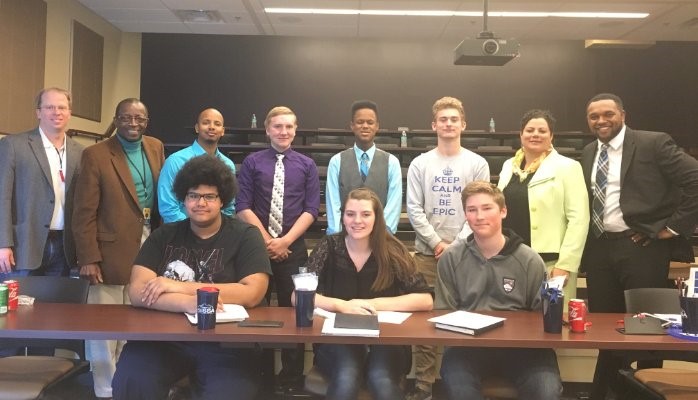 In addition, this week, we kicked off Optiv's Tech Essentials Networking Fundamentals course. It is a two-week offense/defense training course that was originally built for Optiv employees. But why stop there? Why not use such a course as an opportunity to introduce various concepts, methodology, tools, and techniques to students and their teachers? In fact, this is exactly what we did. In partnership with with Denver Public Schools, we opened up the course to let in students and teachers, taking on this opportunity to elevate the reach of this training, share knowledge and techniques, as high school teachers prepare to bring the subject into the classrooms. Trainings such as this one present a real hands-on practical opportunity that lays a foundation to educate and nurture our future cyber pros.
At Optiv, our values are rooted in the following foundational pillars: leading with perspective, working in the trenches, delivering real impact, and unlocking tomorrow. And we work tirelessly to ensure we live by these values, helping create confidence for a more connected world. We are excited to continue to work together with schools and other organizations as we address and try to provide solutions for today's cyber security challenges. We can all do our part to ensure a brighter future for our children. And it all starts with one initiative at a time.