Free eBook
A Visual History of Cybersecurity
More than 50 years of milestones and lessons:
where cybersecurity has been and where it's going.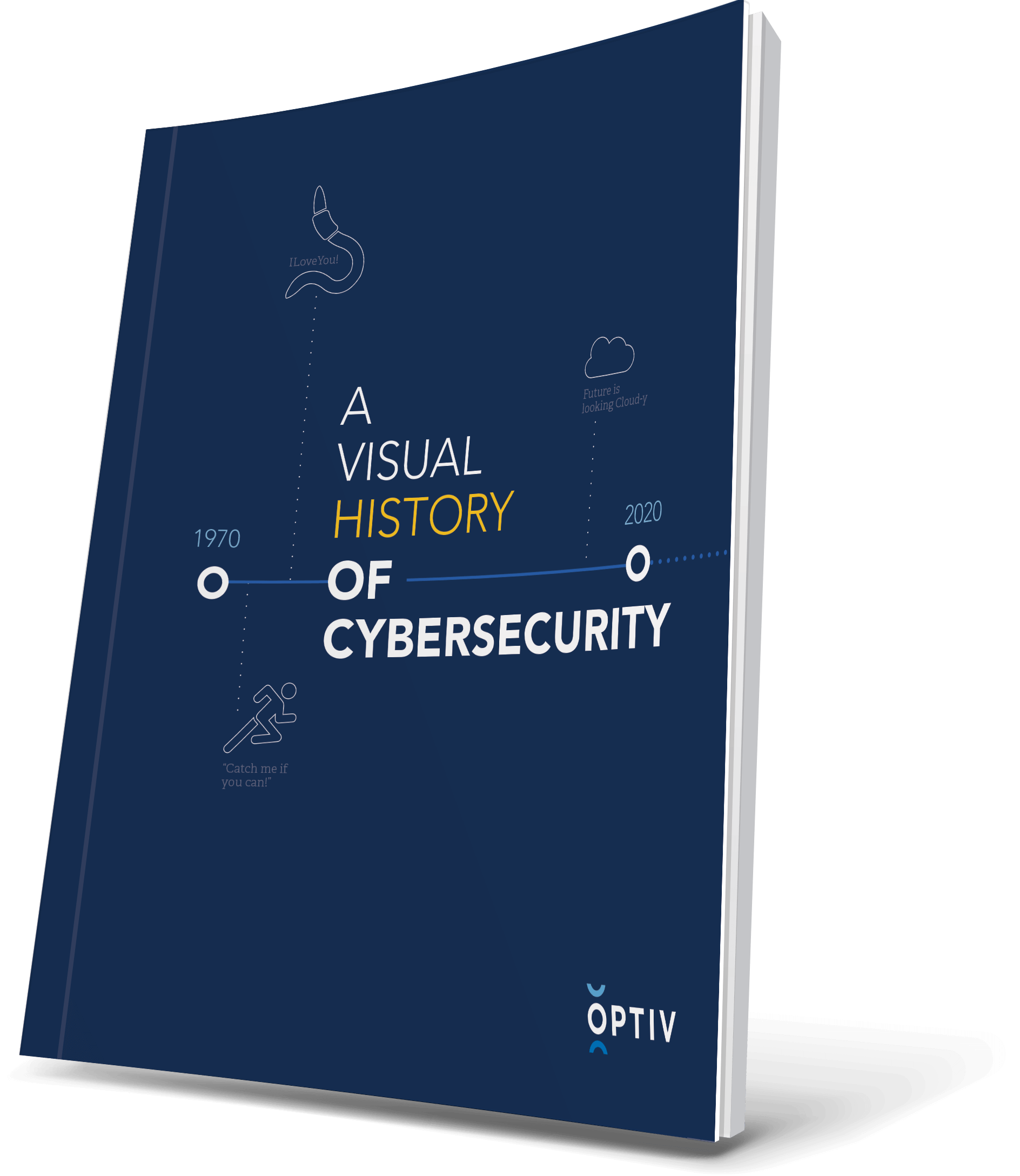 Visualize Cybersecurity's Biggest Events
Explore 100+ pages of cyber attacks and innovations dating back to before you turned on your first computer. The more we learn about yesterday's attacks, the better we can defend against tomorrow's threats.
The Internet before the Internet.
Learn about cybersecurity before ransomware, spyware and logic bombs. Most security events during the '70s were academic, such as the advent of ARPANET, the precursor to the modern internet. We explore these early milestones, including the first computer virus, the first antivirus and one of the first hacker subcultures – the Phreakers.
Big hair. Bigger cybersecurity events.
The personal computer gained popularity, as did international hacking and espionage. Learn how the Cold War accelerated the growth of many of the security protocols and organizations we have in place today. We also take a close look at the Morris worm, the first denial-of-service (DoS) attack.
Cybersecurity goes mainstream.
Movies like The Net, Hackers and Sneakers hit theatres, along with the viruses that inspired them. Explore how ARPANET transformed into the internet we know today, as well as the advent of protocols such as SSL and Transport Layer Security.
What a difference 10 years can make.
In the early 1990s, most cybersecurity threats were mere nuisances. In the 2000s, they became serious threats. We saw the rise of professional cybercriminals who are household names today as well as a huge expansion of attack vectors resulting from mobile devices and connected devices.
Cybersecurity enters the boardroom.
Enterprises began taking cybersecurity more seriously as industries like Retail, Telecom, Utilities and Government/Municipalities were crippled by ransomware and breaches. The number of cybersecurity vendors surged as security professionals struggled to manage the exploding threat landscape.
It's impossible to ignore COVID-19's disruptive effect on cybersecurity. From safeguarding home networks to addressing financial uncertainty, everyone is feeling the pandemic's impact. We look at what brought us to today and articulate steps you can take to improve your security tomorrow.

Revisit 1970 to 2020
From Commodore 64 to COVID-19, explore the biggest breaches, threats and technologies that shaped our industry.

Plan for the Future
Get insights from our top cybersecurity experts to help you prepare for the post-COVID security landscape.

Learn From History
See the origin of spyware, ransomware, viruses and worms, as well as lessons learned from those early incidents.
Get your copy of A Visual History of Cybersecurity
Fill out the form here to get your free copy of this limited print run.
Prefer an electronic version? Just click Download.