Cybersecurity Awareness Month (CAM): Awareness, Meet Action Optiv.
We're about awareness, but we are also about informed, results-focused action … and not just in October.
Throughout this month, this is where we'll share updates, with more in-the-trenches stories on how we've helped customers protect themselves during the pandemic and beyond… showing you how we can help protect your people and your organization – right now.
Hackable Secure Healthcare Technology
Patients are stressed when they seek care. Worrying about their health records needs to not add to it. Protecting patient information by securing healthcare technology – including IoT – is possible, with a strategy.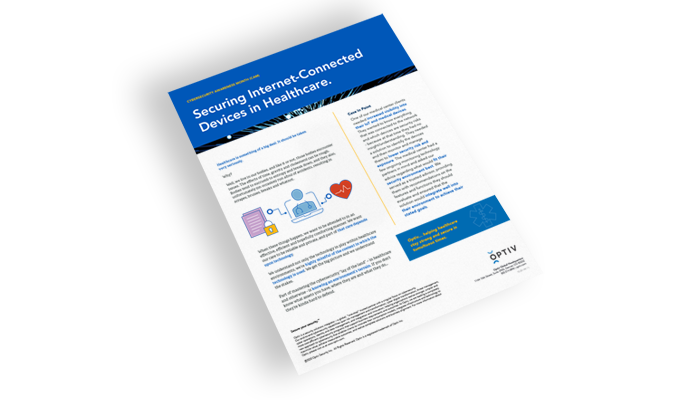 Week 3 - Securing Internet-Connected Devices in Healthcare
BLOG
"Safe and Sound" in a Hospital?
Healthcare must have an effective IoT security strategy (including staff training) in order to protect: infusion and insulin pumps.; Wireless vital monitors; Thermometers; Smart pens; MRI systems; Blood gas analyzers; CT scans; anesthesia machines; x-ray machines and pacemakers. It's a lot … and it matters.
VLOG
Healthcare IoT : A $160B Market?
Data explosions. The immediate need for data access on devices of all types—by whom, how do they access it, and where is it? How is this all gonna work, and how can you make sure patient records are secure.?
INFOGRAPHIC
The COVID-19 Ruckus and The Butterfly Effect
A rush into cloud adoption. The data surge. There have been wide-reaching changes and that means repercussions. Here's what happened, why it happened, and how to prepare to emerge confidently in 2021.
CASE STUDY
140M Customers. 250,000 Endpoints. Eight Terabytes of Raw Log Data. How'd We Help?
How did a large healthcare organization reduce incident response time from hours to minutes, save hundreds of thousands of dollars a month on fraud detection analysis and trade data chaos for data analysis, data aggregation and automated incident response?
BLOG
The Good, the Bad and the Ugly: A National Patient Identifier (NPI)
The good - an NPI might improve patient privacy, help reduce medication errors, decrease mismatched patients, etc. The bad AND the ugly: Is anyone talking about its impact on healthcare cybersecurity and how new controls and policies are needed? Here's a deep dive.
POSTER
#BeCyberSmart – Get Your Reminder Poster
Work in healthcare? Help your team stay mindful of their actions. Deploy it as desktop wallpaper too.
Week 2 - Securing Devices at Home and Work.
WELCOME LETTER
Securing Devices at Home and Work.
So many devices. So little time to secure them. Let's add in doubling your workforce and a pandemic forcing remote work en masse. So how did we help?
BLOG
Remote Employee "Smart" Homes = More Vulnerabilities
Company laptops on home networks that have IoT you can't see? Let's wrestle that to the ground.
VLOG
Tame Security Nightmares by … Talking?
Work-from-home newbies on unknown networks, that'll fuel your nightmares well past October. Listen, as Optiv IoT expert Sean Tufts talks about how you can keep your organization safer by simply getting those remote workers to talk to IT – before they act.
WEBPAGE
Damage Control for Remote Working.
It went from a company perk to "holy !$*&! get out of the office now!" And for IT and security pros - it was like waking up on a different planet. The solution is NOT another box. Instead, make better use of the technology you have.
SERVICE BRIEF
Weaker Link #2: Remote Workers
Home-based employees are accessing the same sensitive data as always, but are their local networks secure? That's called gaps. Here's a customized WFH assessment to guide you on where to start and what to do to be more secure.
POSTER
Security. Every Day. No Delay.
Help your employees stay mindful of their actions. Use it as a poster or as a desktop wallpaper to reinforce awareness.
Week 1 - If You Connect It, Protect It.
WELCOME LETTER
Everything is Interconnected. Good or Bad?
IoT isn't isolated. It's ubiquitous. No, bigger than that. How big and why should you care if it's secure? Whack. It's about to impact both your users and environment.
BLOG
Why IoT is the New Weak Link.
IoT security is today's "herding cats." Here's how attackers exploit the proliferation of IoT and what we recommend to harden your sentries.
VLOG
It's more than Echo ... Echo ... Echo…
It's not just about your home speaker anymore. One of our IoT security experts, Sean Tufts, talks about how embedding IoT devices in various organizations is more than just problematic – it's about the temperature of a chicken.
EBOOK
Joe Disruptive vs. Jane in IT – Who Will Win?
You may have more than one – the employee who is a constant security disrupter. What can you do? Read about what Jane did – with Optiv's help. 
WHITEPAPER
Cameras. Badge Printers. Smart Displays. Sensors. Thermostats. All Vulnerable. Now What?
Who wants anyone cracking into their internet of things (IoT) to steal their private data? No one, right?!? Because so many devices are connected, the possibility that an adversary will try to exploit these weaknesses is likely. However, ensuring the security of these endpoints is nearly impossible without knowing which devices are connected and tracking their activities. Get embedded devices into your vulnerability management program with these techniques.
SERVICE BRIEF
Fix Your IoT Chaos
IoT devices. Are they becoming huge tools for how your company pivots in the market? They can increase your competitive advantages and make you more efficient. But they also expand your threat landscape. Managing their security is crucial.
POSTER
#BeCyberSmart – Get Your Reminder Poster
Help your employees stay mindful of their actions. Use it as a poster or as desktop wallpaper.
Awareness AND Action Tools for CAM and Beyond.
WELCOME LETTER
CAM: Protect People and Organizations Through Proactivity
October is Cybersecurity Awareness Month (CAM), launched by The National Cyber Security Alliance in partnership with the Cybersecurity and Infrastructure Security Agency (CISA). The 2020 theme for CAM is 'Do Your Part. #BeCyberSmart' – focused on enabling individuals and organizations to know how they can help protect themselves. For Optiv, this means combining awareness with action. And for you, it means learning what to do and how we can help.
BLOG
Cybersecurity Awareness Month (CAM) has Gone Global
Four weeks of information, insight and tools to help translate awareness into action. Cybersecurity Awareness Month now lasts 365 days – start here.
VIDEO
Cybersecurity is Everyone's Responsibility
Your employees can learn why they need to be aware – and what action they can take – in less than two minutes.
TRAINING
Empower Your People = Protect Your Organization
Human risk. Insider threats. No matter what you call it, people are your weakest link. One of the best ways to change human behavior is the correct training with the right partner.
SERVICE GUIDE
Security Awareness Training from A to Z – powered by Optiv
Your training requirements are as unique as your people. So we've got a wide variety of eLearning courses and Threat Emulation services to help keep your employees security-aware. Our engaging programs are designed to help you meet compliance requirements, minimize risks and maximize data security.