In these rapidly changing times, you shouldn't have to worry about your security program. Optiv and Rapid7 have partnered to help you reduce risk across your entire connected environment so your company can focus on what matters most. 
To get started, ask your local Optiv representative about our Security Strategy Assessment to help you stay ahead of the rapidly evolving cyber threat curve.
Together for Stronger Security
Now is not the time to wonder about your security.
Organizations around the globe rely on Rapid7 technology, services and research to securely advance. The visibility, analytics and automation delivered through Rapid7's Insight Cloud simplifies the complex and helps security teams reduce vulnerabilities, monitor for malicious behavior, investigate and shut down attacks and automate routine tasks.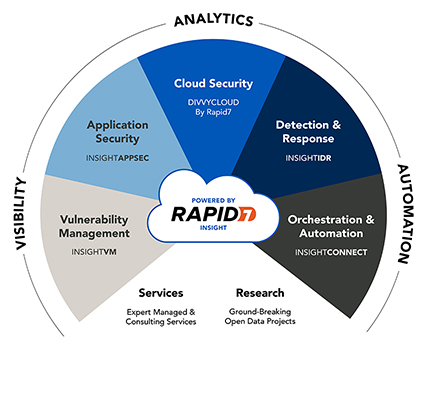 Why Clients Choose Optiv for Rapid7
500+ technology consultants on staff
140+ threat management consultants
Over 1,500 years combined threat experience
We serve more than 7,000 clients in 65+ countries
10,000 security technology projects delivered annually
800+ field staff dedicated to client success
1,500 cybersecurity experts in healthcare, finance, manufacturing, education, retail, aerospace, government, oil and gas
Reduce Risk and Focus on What Matters Most
Optiv's comprehensive portfolio of security operations services and solutions are designed to help you optimize your cyber defenses and breakdown siloed technology solutions. We've partnered with Rapid7 to help you better understand your attack surface, manage vulnerabilities and automate your security operations to stop attacks. Our approach extends throughout the complete cybersecurity lifecycle and is designed to help businesses advise, deploy and operate successful cybersecurity programs.
Implementation and Integration
Optiv's Implementation and Integration Services help break down security technology silos to maximize the effectiveness of your security program. We improve agility and boost your investments by integrating Rapid7 technologies into your existing environment.
Threat & Vulnerability Management Remediation
Optiv can help you apply an adversarial perspective and a methodological approach to discovering, prioritizing, remediating and verifying vulnerabilities within your unique environment.
Optiv's AppSec Services reduce security risks by helping organizations design and build mature application security programs.
Drive your secure cloud adoption journey and securely migrate data and workloads to the cloud. 
Increase efficiencies by automating duplicative and manual business functions, processes and tools. We help clients unlock hidden ROI and run their organization securely and efficiently.
Rapid7 Solutions
The Rapid7 Insight Cloud
The Rapid7 Insight Cloud equips you with the visibility, analytics and automation you need to unite your teams and work faster (and smarter). Security, IT and Development now have one-click access to vulnerability management, application security, incident detection and response, automation and more.
The core of the Rapid7 Insight Cloud:
InsightVM gives you live vulnerability management and endpoint analytics to view real-time risk.
 
InsightAppSec stays in step with your application development to easily introduce security throughout your software development lifecycle (SDLC).
InsightIDR unifies UBA, SIEM, and EDR technology so you can prioritize your response efforts.
InsightConnect unites your technology stack through custom workflows to accelerate security and IT processes.
Rapid7 Services act as an extension of your team to help you reduce risk and detect and respond to attacks.
 
DivvyCloud provides continuous security and compliance for your multi-cloud environment and allows you to accelerate innovation without loss of control.
What's Next?
To get started, ask your local Optiv representative about our complimentary Security Program Foundation Assessment to determine where Optiv and Rapid7 can help you strengthen and optimize your security program.
Amplify Your Cybersecurity Journey
Know where you are now, and what is next – with Optiv and our Partners.