Optiv's Cybersecurity
Field Guide Series
Designed with you in mind – with easily searchable content – these field guides will become a constant reference for all your cybersecurity strategies and tactics. Build your library!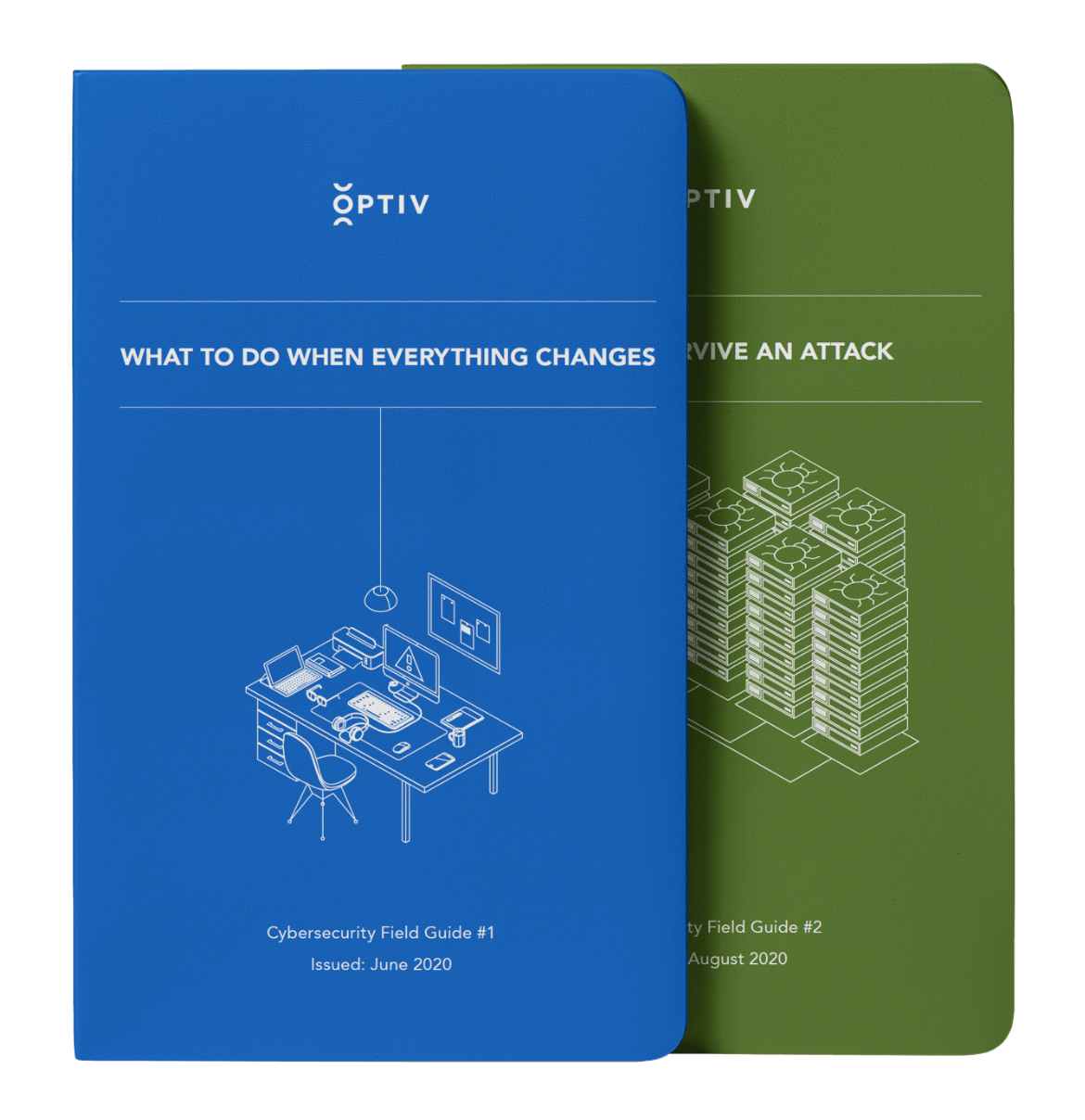 A Picture is Worth 1000 Words
Each guide features easy-to-process graphs, charts and diagrams so you can find and apply what you need. 
Strategies for times of huge change: maintaining continuity while mitigating unexpected consequences.
Best practices: Assessments, frameworks, preparation, prevention, detection, analysis, containment, eradication, recovery, etc.
A plethora of things you might not have thought of.
 
Take a Look Inside
Each guide focuses on a different area and is based on years of been-there-done-that research. Together, they form a library with your most pressing questions answered by Optiv teams. You'll find things like: 
Immediate digital transformation steps for disruptions – crisis business continuity strategies – flowcharts with step-by-step responses.
IoT and remote network safety including uncovering, remediating and preventing compromise.
Incident Response plan components, featuring situational solutions that have been deployed by Optiv – so we know they work.
The why's of doing what.
Just a Few of the Topics in Our Field Guides
Field Guide #1
Types of threats, common vectors, and how to protect your team.
Preventing device compromise
Knowing when a device has been compromised
Identifying common device threat vectors – and how examining permissions can help
Field Guide #1
IoT, BYOT, home networks, new third-party communications tools, and the need for visibility of it all.
Securing home networks with user training, endpoint security, and how identity access management and security operations are key
A VPN checklist to simplify your life
Third-party tool security (check your Zoom settings right now)
Field Guide #2
Be prepared to respond to a breach and avoid the "Now what?" "Where are we now?" and "What do we do next?" scrambles.
How a cybersecurity IR plan is like a physical security plan (checklists, simulation exercises, practiced responses)
Why you must adopt an industry framework (like NIST 800-61)
Cross functional teams – who to include and why – and not everyone is technical
The four phases of an IR plan and best practices for each
Field Guide #2
So it happened. Here's what to do now.
Assessing what happened and why, collecting evidence and digital fingerprints
Analyzing attack vectors and timelines, tracking movements
Developing an action plan to further reduce your attack surface
Implementing lessons learned – it's all about the details
Download the Field Guides
FIELD GUIDE #1
What to Do When Everything Changes
COVID-19 meant an accelerated digital transformation (change, change and more change). But it won't be the only thing that rattles your environment. Our first guide will help you navigate cybersecurity complexities in a world where innovation never stops and small and large threats arise daily.
FIELD GUIDE #2
How to Survive an Attack
This is the guide for creating a comprehensive, tested IR plan to effectively respond to cyber attacks. It looks at how – from assembling your cross-functional team, to tabletop exercises and war games – to mitigation if the unthinkable happens.
FIELD GUIDE #3
Coming Soon