Kaseya: Supply-Chain Attack or Zero-Day Vulnerability?
In the wake of the latest widespread dissemination of ransomware, there is some question as to whether Kaseya fell prey to a supply chain attack or Zero-Day vulnerability. Join Optiv's Flash Panel of thought leaders and experts as they weigh in on this debate, exploring the different paths toward remediation as well as the broader geopolitical issues in play.
Take a Deeper Dive into Zero Trust
In a Zero Trust environment, your security teams must "assume breach" and believe any entity (user or device) is a potential threat actor. Begin your Zero Trust expedition by learning how organizations like yours are deploying it across multiple security domains. This guide has expert Zero Trust strategies and even addresses cloud security and IoT devices.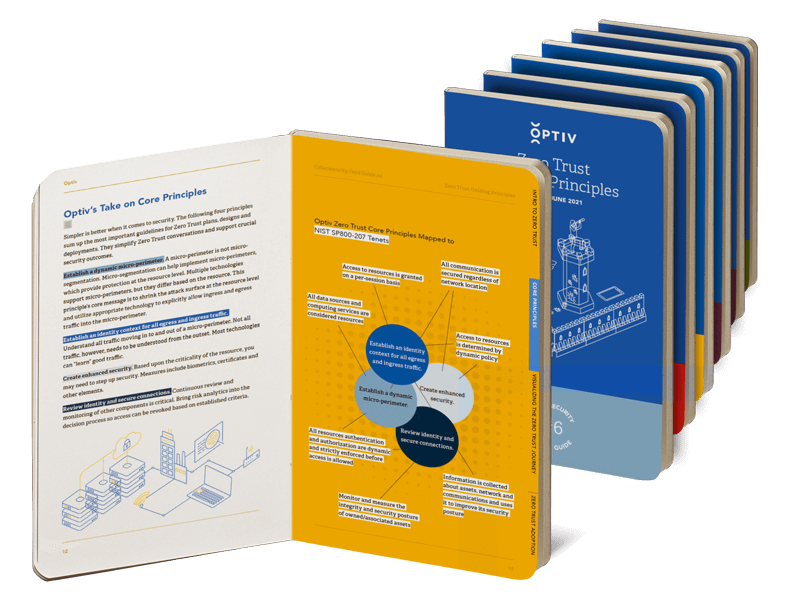 The Core of Insider Risk
People + behavior = risks. Optiv can help you proactively mitigate insider incidents and identify risks before they damage your organization. Our holistic, risk-based approach helps you prevent, identify and respond to threats quickly and effectively.
TUNE IN: Optiv Flash Panel: Ransomware Rising
In a high-profile action, sophisticated cyber attackers hit two dozen companies with ransomware attacks over the past week. Join moderator Todd Weber (Optiv CTO) and Optiv's panel of cybersecurity thought leaders as they explore this critical issue and discuss practical measures to address ransomware risk and response.
SOURCE ZERO/CON
Current and future security leaders – connect directly with our cybersecurity technical experts! We're bringing the technical community together in a virtual event May 25 – 27. Learn tactics and techniques in offensive and defensive security, virtually connect with peers and our Source Zero research and innovation team.
Our In-person OptivCons are BACK!
We have thoughtfully redesigned these events to feature content more relevant to our clients than ever before. This one-day
educational experience will feature keynote presentations, breakout sessions, and 1:1 access to some of the best and
brightest minds in the cybersecurity industry. Connect (in person!) with peers. Earn CPE credits.
Is it Time for Zero Trust?
Optiv can help, beginning with how to establish the right mindset.
Now OnDemand - OptivCon Virtual
Watch now – our exclusive complimentary, virtual experience featuring cybersecurity industry experts and breakout sessions including a deep look at Zero Trust. And learn how to reduce enterprise risk and realize stronger, simpler and less costly programs.
Black Hat USA 2021: We're a Diamond Virtual Sponsor
Optiv Named Microsoft Security System Integrator of the Year
Optiv has been named a Microsoft Security 20/20 award winner for the Security System Integrator of the Year category for its demonstrated excellence in innovation, integration and customer implementation with Microsoft technology.